A vertical baler is a machine that can compress many kinds of waste into small and easy-to-transport bales. It saves space and has a high efficiency, making it a good choice for businesses of any size. The machine is designed to be safe and reliable, which is beneficial for the environment. In short, Shuliy vertical baler is a reliable and eco-friendly solution for recycling waste in a sustainable way.
Shuliy Machinery provides a series of vertical balers, whether heavy duty vertical baler or small vertical baler available from Shuliy factory. All our machines enjoy 12 months warranty and excellent after-sales service. If you are looking for this machine, contact us now to start your business shortly.
What is a vertical baler?
A vertical baler machine used for waste management that compresses various types of materials such as cardboard, plastic, paper, textiles, and more, into compact bales. The machine is designed with a vertical orientation to save space and is operated by a hydraulic press that applies pressure to the materials vertically. It is a versatile and efficient solution for businesses looking to handle their waste in a safe and eco-friendly manner.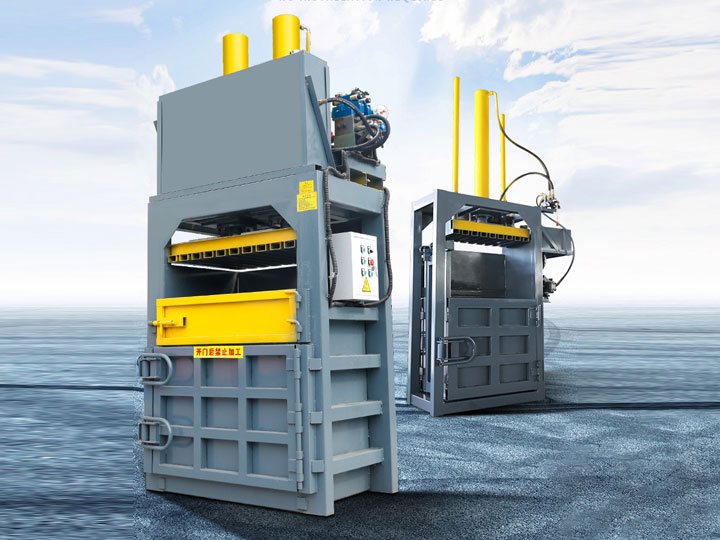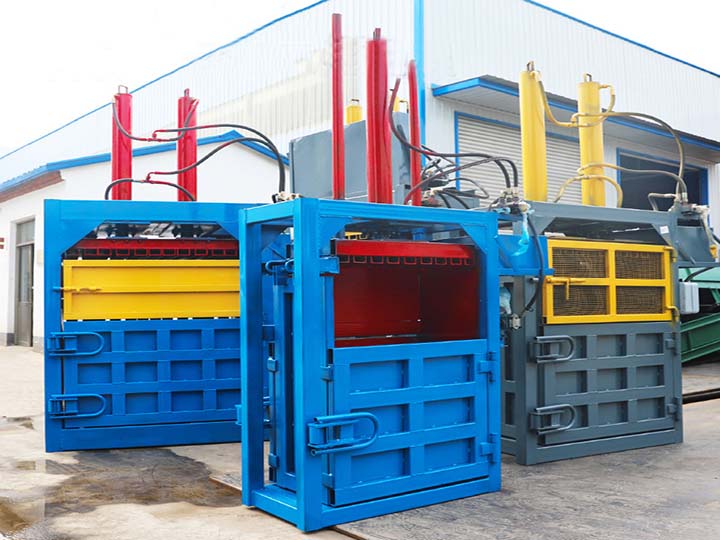 High-quality vertical baler for sale
We are pleased to offer vertical balers for sale, designed to meet the waste management needs of businesses of all sizes. The hydraulic power of the machine is from 10 ton to 120 ton. Our vertical balers are efficient and reliable, able to handle a wide range of materials and compress them into compact bales. They are designed for safety and are easy to use, making them a great investment for companies looking to streamline their waste management processes. If you are interested in purchasing a vertical baler, please contact us for more information and to discuss the best model for your specific needs.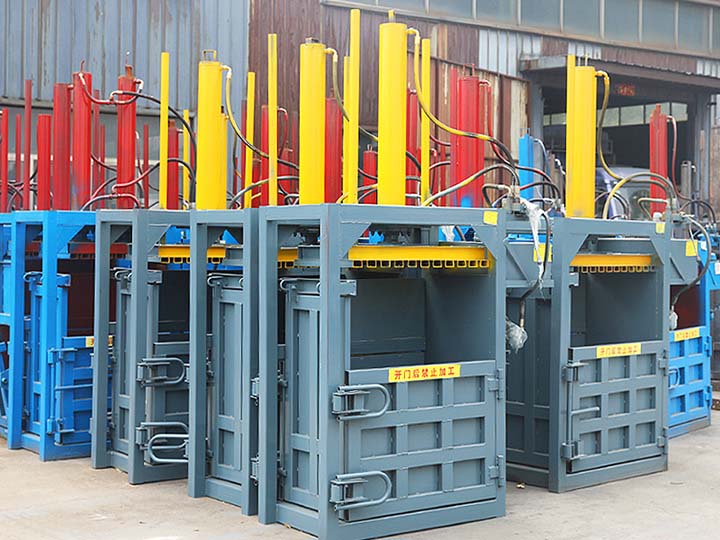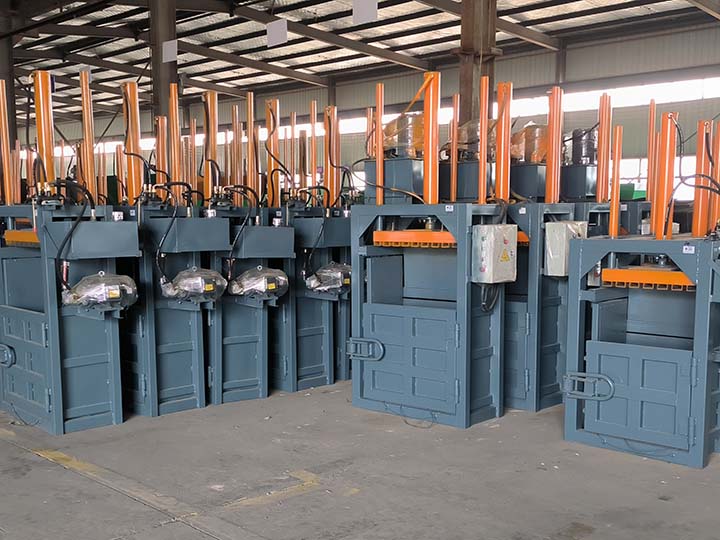 Features of Shuliy vertical baler machine
All types of vertical balers are powered by hydraulic pressure and can be operated either manually or automatically controlled by a PLC (Programmable Logic Controller).
The power of the balers can be both motor and diesel engine.
The compaction ratio is 5:1.
A full range of hydraulic powers, from 10 ton to 120 ton.
The vertical baler machine for sale has a wide range of applications, including waste plastic, waste paper, textiles, garbage, etc.
Vertical baler machine parameters
| | | | | | | |
| --- | --- | --- | --- | --- | --- | --- |
| Model | Pressure | Motor | Volume of the inner box | Final product size | Capacity | Weight |
| SL-15T | 15T | 5.5KW | 850*600*1300MM | 890*610*500MM | 1-1.5T/H | 1T |
| SL-30T | 30T | 7.5KW | 800*400*1300MM | 890*610*500MM | 1.5-2T/H | 1.5T |
| SL-60T | 60T | 7.5KW | 900*600*1300MM | 900*610*500MM | 2-2.5T/H | 2T |
| SL-80T | 80T | 7.5KW | 1200*800*1500MM | 1200*810*500MM | 3-3.5T/H | 3T |
| SL-100T | 100T | 15KW | 1100*900*1500MM | 1100*910*500MM | 3.5-4T/H | 3.5T |
| SL-120T | 120T | 18.5KW | 1200*100*1500MM | 1200*100*500MM | 4-5T/H | 4T |
As a leading industrial baler manufacturer in China, we have strong capability to provide customization service, including the pressure, motor, volume of the inner box, machine size, capacity, and machine material, all these things can be customized from our factory.
Applications scope of Shuliy vertical hydraulic baler
A wide variety of materials can be processed using a vertical baler, including cardboard, plastic bottle, waste paper, textiles, straws, cotton, garbage, waste clothes, coconut husk, and even some metals. However, it is important to ensure that the materials being processed are suitable for a vertical baler. For example, materials that are too large or bulky may not fit in the chamber, while materials that are too lightweight may not compress properly.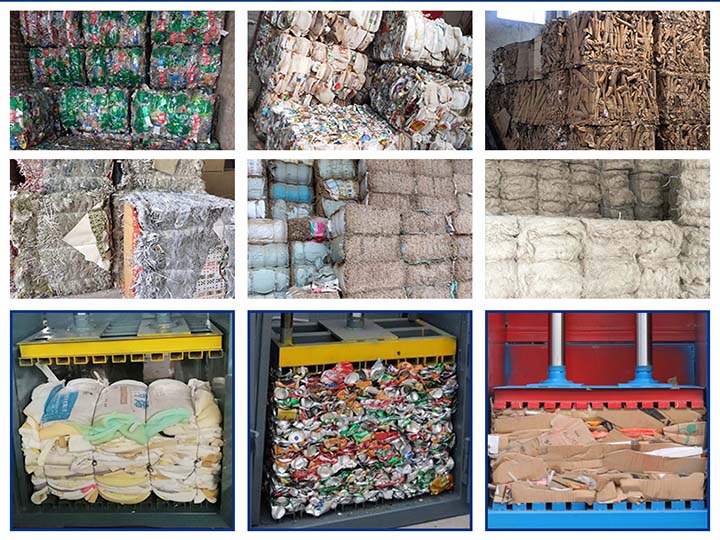 How does a vertical baler work?
Vertical balers work by compressing waste materials into compact bales using a hydraulic press. Here is a step-by-step breakdown of how a vertical baler typically operates:
Loading: The waste materials, such as cardboard, plastic, or paper, are loaded into the chamber of the vertical baler. The chamber door is then closed.
Compression: Once the chamber is loaded, the hydraulic press is activated, and a plate is lowered onto the materials, applying pressure vertically. This pressure compacts the materials and creates a denser bale.
Binding: Once the desired density is reached, the bale is bound using wire or plastic strapping, which is threaded through the bale and tightened.
Ejection: The bound bale is then ejected from the machine and can be easily transported and disposed of.
Vertical balers are designed to be easy to use and require minimal operator input. The machine is controlled by simple controls that activate the hydraulic press, and the bale ejection process is typically automated. This makes vertical balers an efficient and cost-effective solution for businesses looking to manage their waste in a safe and sustainable manner.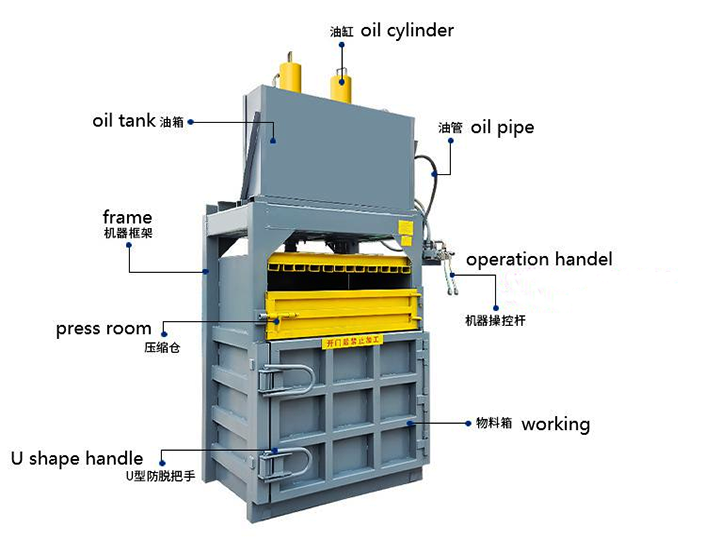 Vertical baler machine working video
Why do you need a vertical baler?
Vertical balers are a smart choice for businesses that need to manage their waste efficiently and cost-effectively. They save space, reduce waste volume, and are easy to use with safety features. They can handle different materials, making them versatile, and help companies meet sustainability goals by minimizing their environmental impact. A vertical bailing press machine will be a great tool for your waste recycling business.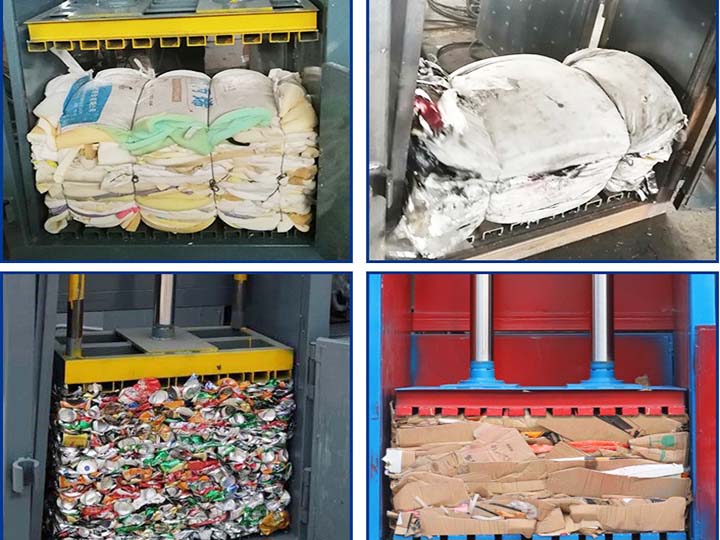 What is the difference between vertical and horizontal baler?
The main difference between a vertical baler and a horizontal baler is the orientation of the baling chamber. In a vertical baler, the chamber is oriented vertically, with the waste material loaded from the top. In contrast, a horizontal baler has a chamber that is oriented horizontally, with the waste material loaded from the side.
Another difference is the type of waste materials that can be processed. Vertical balers are typically used for materials like cardboard, paper, and plastic, while horizontal balers are used for denser materials like metal, wood, and foam.
Horizontal balers are generally larger and more expensive than vertical balers, but they can process larger volumes of waste more quickly. Vertical balers are more compact and affordable, making them a popular choice for small businesses with limited space.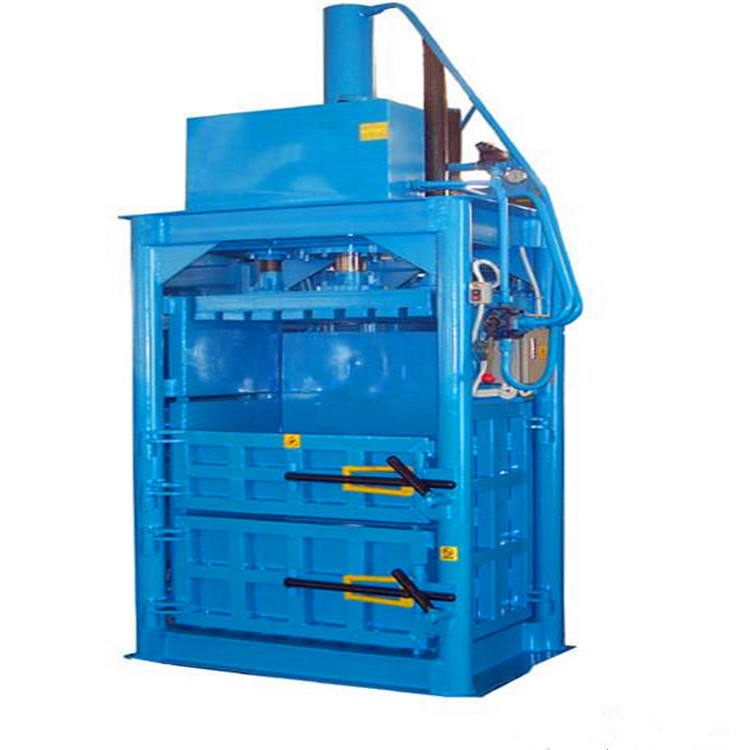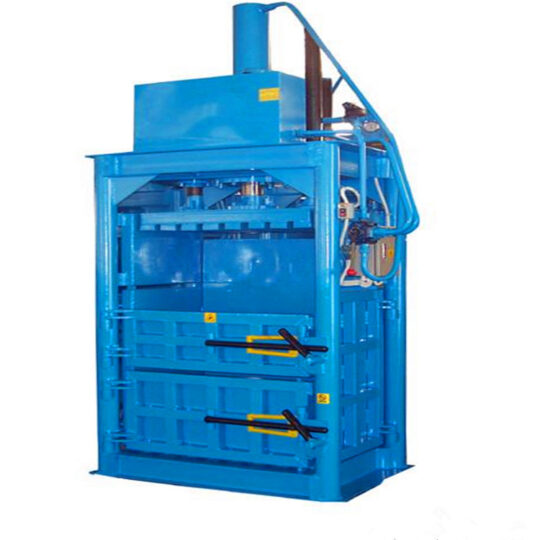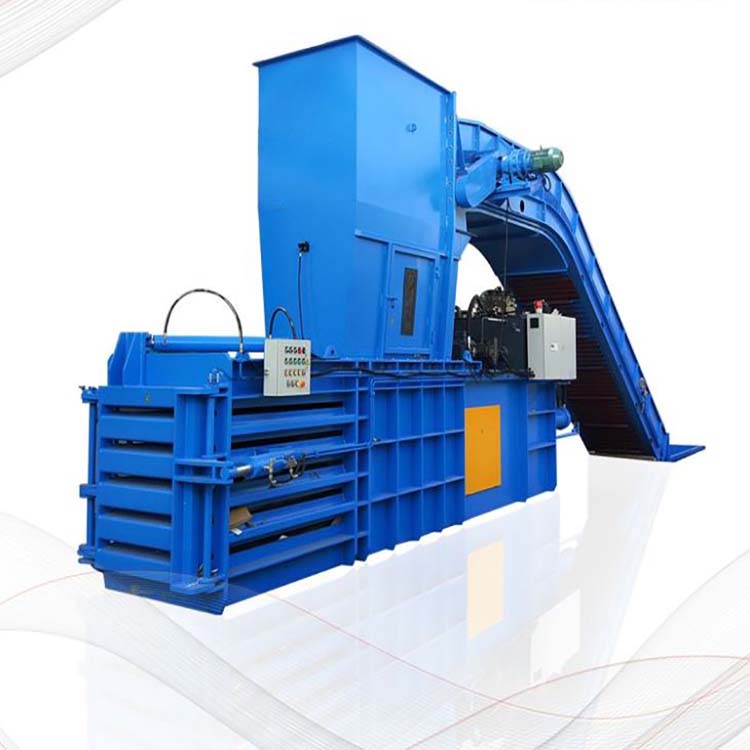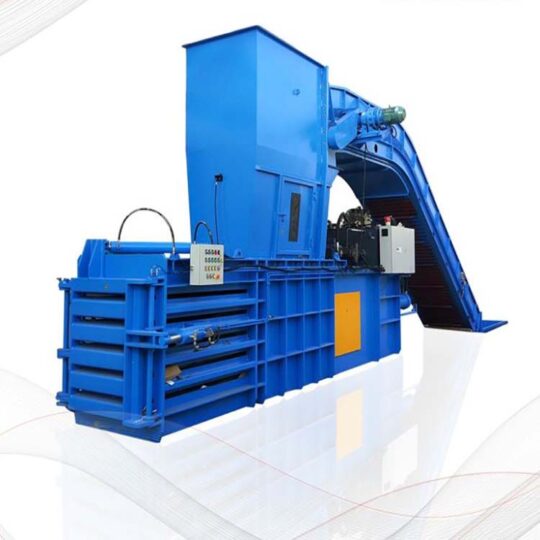 Choosing the right vertical baler
When choosing a vertical baler, there are several factors to consider. These include the size of the machine, the capacity of the chamber, and the level of automation. Additionally, it is important to consider the type of materials that will be processed, as some machines may be better suited for certain materials than others.
As a leading vertical baler machine manufacturer and exporter, Shuliy offers a full range of vertical bailing machines for worldwide customers. Apart from remarkable vertical balers, there are also various horizontal balers and scrap metal balers for sale. No matter what industry you are in, we can meet your needs. Without hesitation leave your requirements today, and we will send you a free quotation soon.