A paper baler is a machine designed to compress and bind waste paper into dense bales, making it easier to handle, transport, and recycle. It is an essential device for effective waste management and environmental sustainability.
Shuliy Machinery provides the two most popular paper baler for sale, horizontal paper baler and vertical paper baler. They have different features and are suitable for different materials and working situations. If you are looking for a remarkable paper recycling solution, welcome to get in touch with us for more helpful details and a free machine price.
Type 1: horizontal paper baler press machine for sale
Horizontal paper baler press machine is a popular one that recycles waste paper horizontally into dense bales. These machines are designed for medium to large-scale operations and are capable of handling large volumes of waste paper. They are available for purchase and can help manage waste and increase recycling efficiency.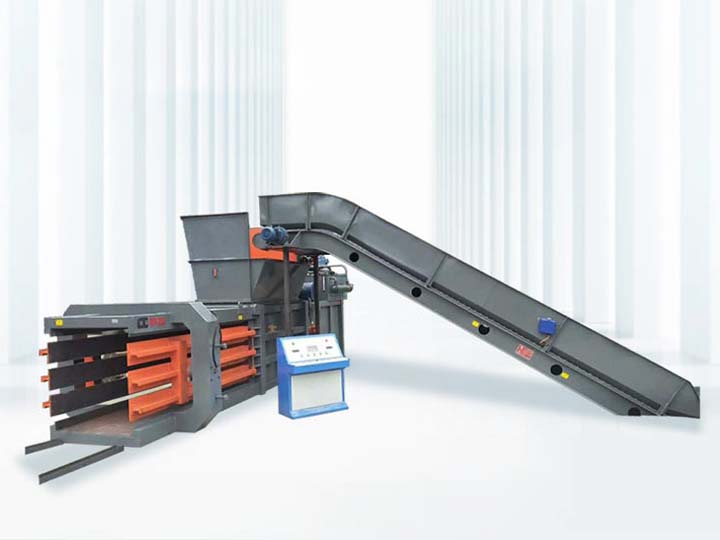 Horizontal paper baler machine parameters
| | | | | |
| --- | --- | --- | --- | --- |
| Model | SL-120/100 | SL-180/160 | SL-200 | SL-220 |
| Pressure | 28Mpa | 28Mpa | 31.5Mpa | 31.5Mpa |
| Feeding port size | 1700*1020mm | 2000*1100mm | 1100*200mm | 1100*2000mm |
| Final product size | 1100*900mm | 1100*1300mm | 1100*1300*1500mm(ajustable) | 1500*1100*1400mm |
| Final product weight | 1100-1550kg | 1100-1550kg | 1100-1550kg | 1100-1550kg |
| Total motor | 22kw | 43.5kw | 55kw | 62kw |
| Packing way | Manual tempered wire 2.8-3.2mm 3 lines | Automatic tempered wire 2.8-3.2mm 4 lines | Automatic12# wire 5lines | Automatic 12# wire 5 lines |
| Control system | PLC System | PLC System | PLC System | PLC System |
| Capacity | 7T/H | 10T/H | 12T/H | 14T/H |
| Oil type | 46# Hydraulic oil | 46# Hydraulic oil | 46# Hydraulic oil | 46# Hydraulic oil |
| Oil tank | 2000kg | 2000kg | 2000kg | 2000kg |
Type 2: small vertical paper baler for sale
Small vertical paper baler is a compact and efficient vertical baler machine designed for small-scale operations. These machines are ideal for businesses or individuals who generate small amounts of waste paper and need a cost-effective way to manage it. They are available for sale and can help reduce waste volume and improve recycling efficiency. Small paper baler is easy to use and requires minimal maintenance, making them a practical choice for those looking for a simple and effective waste management solution.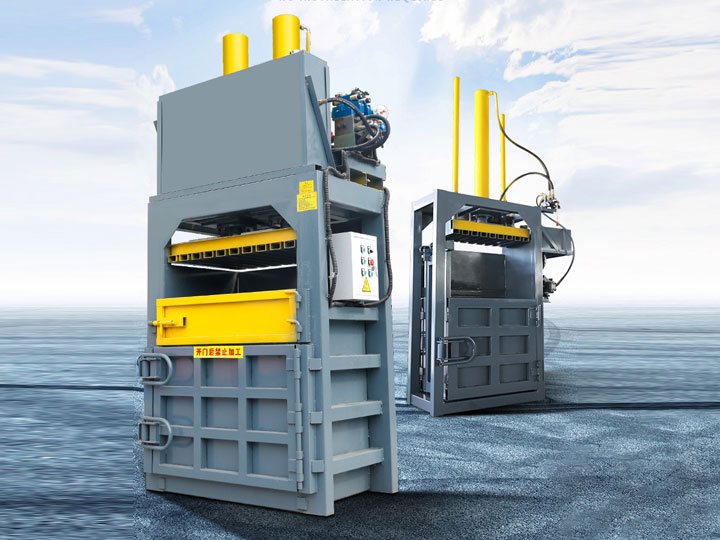 Vertical paper baler machine parameters
| | | | | | | |
| --- | --- | --- | --- | --- | --- | --- |
| Model | Pressure | Motor | Volume of the inner box | Final product size | Capacity | Weight |
| SL-15T | 15T | 5.5KW | 850*600*1300MM | 890*610*500MM | 1-1.5T/H | 1T |
| SL-30T | 30T | 7.5KW | 800*400*1300MM | 890*610*500MM | 1.5-2T/H | 1.5T |
| SL-60T | 60T | 7.5KW | 900*600*1300MM | 900*610*500MM | 2-2.5T/H | 2T |
| SL-80T | 80T | 7.5KW | 1200*800*1500MM | 1200*810*500MM | 3-3.5T/H | 3T |
| SL-100T | 100T | 15KW | 1100*900*1500MM | 1100*910*500MM | 3.5-4T/H | 3.5T |
| SL-120T | 120T | 18.5KW | 1200*100*1500MM | 1200*100*500MM | 4-5T/H | 4T |
Why recycle paper?
Recycling paper is important for environmental sustainability because it helps to conserve natural resources, such as trees and energy. By recycling paper, we reduce the amount of waste in landfills, which take up valuable space and can create harmful greenhouse gas emissions. Additionally, the process of making paper from recycled materials uses less energy than making paper from raw materials, which results in lower carbon emissions and a smaller carbon footprint. Overall, recycling paper is an essential practice for reducing waste and promoting a more sustainable future.
Benefits of using a paper baler
1. Reduces Waste Volume: Paper balers compress waste paper into dense bales, reducing the volume of waste by up to 90%. This means that less space is required for storage and transportation, resulting in cost savings.
2. Cost-Effective: By reducing the volume of waste, paper balers make waste disposal and transportation more cost-effective. This is especially true for businesses and organizations that generate large amounts of waste paper.
3. Environmental Sustainability: Recycling paper helps to preserve natural resources and reduce greenhouse gas emissions. Paper balers make recycling more efficient by reducing the volume of waste and making it easier to transport.
4. Improved Safety: Using a paper baler can improve workplace safety by reducing the risk of injury from handling large volumes of waste paper.
5. Versatile: Paper balers are available in different types and sizes to meet the needs of various operations. This makes them a versatile tool for managing waste in different settings.
Safety guidelines for operating paper balers
When using a paper baler, safety is important to avoid injury. Here are some simple safety guidelines to follow:
1. Read the Manual: Before using the machine, make sure you understand how it works.
2. Wear Tight Clothing: Wear close-fitting clothes without loose accessories that could get caught in the machine.
3. Use Safety Guards: Ensure safety guards are in place before using the machine.
Never Override Safety Features: Don't turn off any safety features on the machine.
4. Stay Clear of Moving Parts: Keep your hands and fingers away from moving parts when the machine is running.
5. Follow Load Limits: Don't overload the machine beyond its capacity.
6. Perform Regular Maintenance: Keep the machine in good working condition by performing regular maintenance and fixing any defects.
Following these safety guidelines can help you operate the paper baler safely and prevent injury. Always prioritize safety when working with heavy machinery.
Why choose us as your top paper baler manufacturer?
As a leading baler machine manufacturer, we have rich experience in the design, research, manufacture, and supply of various bailing machines. There are many advantages as your top paper baler manufacturer.
1. Quality: We produce high-quality paper baler machines that are designed to last for many years. Our machines are made with durable materials and undergo rigorous quality control checks to ensure that they meet our high standards.
2. Customization: We offer a range of paper balers that can be customized to meet your specific needs. Whether you need a small baler machine for your business or a large one for an industrial setting, we can provide a solution that fits your requirements perfectly.
3. Service: We provide excellent customer service, both before and after the sale. Our team is dedicated to ensuring that you are satisfied with your purchase and that any issues are resolved quickly and efficiently.
4. Price: We offer competitive pricing on all of our paper balers. We believe in providing our customers with high-quality machines at a fair price.
Contact Us to Start Your Business
We are a comprehensive baler machine manufacturer and exporter. The paper baler machine is one of the most popular products in the global market. Our machines are famous for their reliable quality, good performance, and easy operation. If you are interested in this machine, welcome to contact us for more useful machine details and a free price list.